We work with

all Insurance Companies
Dedicated Project Manager
Water Removal and Structural Drying
Sewage Backup Clean up and Disinfection
Debris Removal and Disposal
Content Manipulation
Drying Progress and Documentation
Complete Reconstruction and Renovation Solutions
What to do if you experience flood, water or sewer damage:
2
If it's a plumbing/sewer issue, turn off the water at the main if you can do so safely.
3
When we get there, we'll immediately get to work to make it right again.
Water Damage DOs and DON'Ts
Water Damage from Clean Water
Water damage arises from fire damage, broken pipes, blocked drains, malfunctioning appliances, storms and other causes. The appropriate treatment depends on the nature of the damage. Some water carries contaminants and should be considered hazardous (See Water Damage from Contaminated Water). Whatever the origin, the prospects for restoration depend largely on the speed with which your building and personal property can be dried. Even clean water can generate mildew and other bacterial growth if neglected.
DO
Call NorthStar Restoration Services to process a water damage situation properly, with the appropriate commercial drying equipment.

Note: Prompt dry-out action in this regard is recommended to prevent further damage and personal loss. Prompt dry-out of water damaged property is the best action to prevent the growth of mold and other microbials. The longer you wait, the worse the situation may get.
Call a qualified remediation contractor at NorthStar Restoration Services for mold and fungal damage.
Open drawers and cabinet doors for interior drying, but do not force open stuck drawers or doors.
Place aluminum foil squares or china saucers under furniture legs to avoid carpet staining.
Ventilate wet areas. Turn on air conditioning for accelerated drying in the summer.
Remove standing water from flat surfaces by sponging and blotting and take up saturated rugs and carpeting when hardwood floors are at risk.
Stay out of rooms where ceilings are sagging from retained water.
Transport computers to a dry environment, remove cases and blow dry with low-pressure air, remove lamps, telephones, decorative items and any other pieces from wet furniture tops.
Freeze valuable books and documents to retard mildew growth until drying can be performed.
DON'T
Operate TVs, vacuums or appliances in wet areas.
Use heat to dry closed building interiors: mildew and expanded moisture damage can result.
Leave wet fabrics in place: space them apart and let them dry as soon as possible.
Raw sewage and flood waste contains bacteria and other micro organisms which are extremely hazardous to human health. These can be transmitted by touching contaminated areas on shoes. Children, elderly, and pets are especially vulnerable. Frequent hand washing is an important preventative measure. Absorbent materials such as carpeting and drywall most likely will not be restorable after direct contact with sewage or flood contaminated water.
DO
Treat all water-impacted surfaces and furnishings as toxic, until property is decontaminated
Keep children and pets out of contaminated areas.
Call NorthStar Restoration Services for this type of damage.
DON'T
Use over the counter germicidal products on contaminated surfaces. They do not fully eradicate bacteria and other micro organisms.
Proudly Serving Central Wisconsin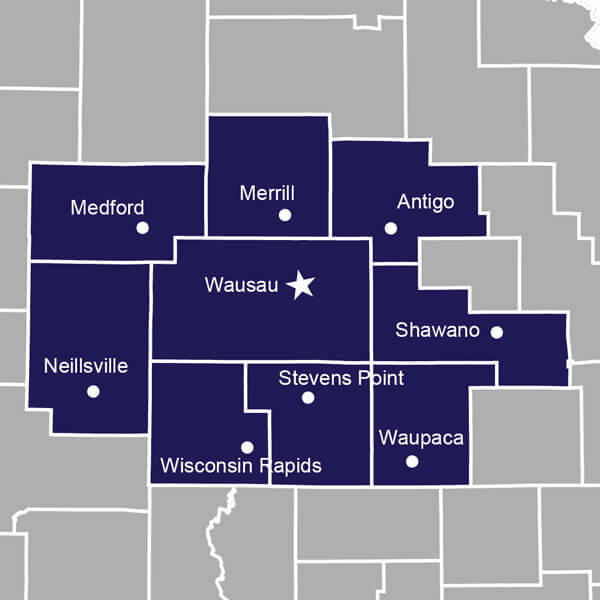 Proudly providing disaster restoration and cleaning services to Clark, Langlade, Lincoln, Marathon, Shawano, Portage, Taylor, Waupaca, Wood and Counties.
Abbotsford
Amherst
Antigo
Athens
Auburndale
Colby
Dorchester
Edgar
Greenwood
Hatley
Iola
Kronenwetter
Loyal
Marathon City
Marshfield
Medford
Merrill
Minocqua
Mosinee
Owen-Withee
Plover
Rib Mountain
Rhinelander
Schofield
Spencer
Stevens Point
Stratford
Thorp
Tomahawk
Waupaca
Wausau
Weston
Wisconsin Rapids
Wittenberg
Woodruff
and every small town in between!