About NorthStar Restoration Services
We're Here When Disaster Strikes - 24 Hour Emergency Response
The reliable professionals at NorthStar Restoration Services will take care of your damage repair needs. With more than 100 years of combined experience behind us, we're not afraid to handle large or complex projects. Our mission will be to make your home a safe and livable place again.
Our friendly team will strive to decrease the stress of having your property restored. We're organized and thorough, so we're able to supply prompt project completion on budget. In addition, our company offers a Priority Response Emergency Plan (PREP) program.
As a premier provider of damage repair services, NorthStar Restoration Services is committed to customer satisfaction. We're proud to be based in Wausau, WI. If you'd like to learn more about the work we do, contact us today.
We are trained and certified to help with:
Our Mission
The mission of NorthStar Restoration Services is to improve the quality of life of its employees, customers, and those in the community whose lives we touch.
For years we've been dedicated to creating the best customer experience in the Wausau, WI. We treasure our reputation as Central Wisconsin's top-rated restoration company — our clients' satisfaction comes first in everything we do.
Proudly Serving Central Wisconsin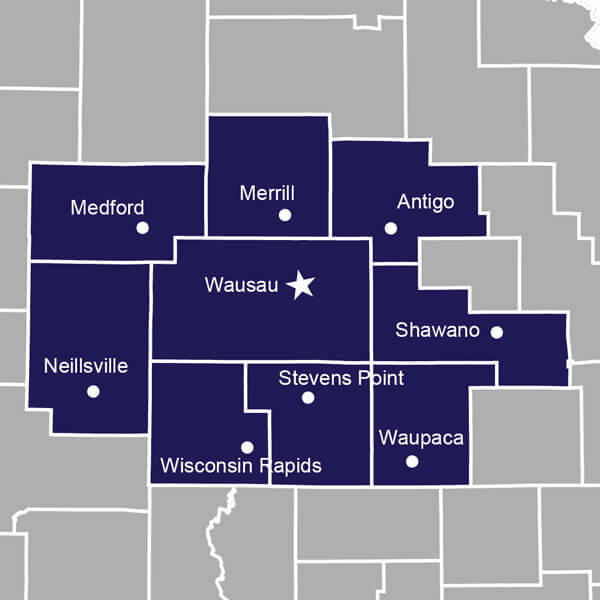 Proudly providing disaster restoration and cleaning services to Clark, Langlade, Lincoln, Marathon, Shawano, Portage, Taylor, Waupaca, Wood and Counties.
Abbotsford
Amherst
Antigo
Athens
Auburndale
Colby
Dorchester
Edgar
Greenwood
Hatley
Iola
Kronenwetter
Loyal
Marathon City
Marshfield
Medford
Merrill
Minocqua
Mosinee
Owen-Withee
Plover
Rib Mountain
Rhinelander
Schofield
Spencer
Stevens Point
Stratford
Thorp
Tomahawk
Waupaca
Wausau
Weston
Wisconsin Rapids
Wittenberg
Woodruff
and every small town in between!