Trauma and Crime Scene Cleanup
Unexpected deaths or the scene of a crime can leave behind more than emotional devastation. The property where the event occurred is also significantly impacted, and its occupants should not be left to try to clean up on their own after the medical and law enforcement personnel have departed. Not only can the destruction seem overwhelming, but the presence of bodily tissues and fluids pose a significant health hazard if not cleaned up using the proper equipment and chemicals.
NorthStar Restoration Services has years of experience in the area providing this unique, but sadly necessary, service for their neighbors. In a professional, discreet manner, our trauma and crime scene clean up technicians will arrive promptly to diligently and speedily remove all physical traces of the death or crime. Any biohazardous materials will be disposed of and all areas thoroughly cleaned so the space is no longer a danger to anyone's health.
Because we are a full-service restoration company, our team can handle not only the cleanup itself, but any repairs that might also be required to return the space to its original condition.
Not an Emergency?

Request an Estimate
What to do if you need help cleaning up after an unexpected death, trauma or a crime at your property:
1
Fill out our contact form or call us at (866) 439-9318 right away. We will explain steps we'll take to remove all physical traces of the event. We will encourage you not to touch anything in order to avoid potentially biohazardous materials.
2
Many property owners opt to not be present during the cleaning process because of the delicate, intimate nature of what happened. You can be assured of our discretion and trustworthiness. All technicians are licensed, bonded and insured.
3
When we get to your property, we'll work quickly to begin the cleanup process so that the home you return to won't have any tangible reminders of the tragic situation.
Harmful Waste DOs and DON'Ts
DO
Stay out of affected areas.
Call emergency service personnel if the situation is life-threatening.
Treat all bodily fluids as if they are contaminated.
DON'T
Do not attempt cleanup of any kind.
Do not touch or handle items that might be contaminated with bodily fluids.
Frequently Asked Questions
Biohazards like blood and other bodily fluids can carry dangerous pathogens like HIV, Hepatitis B, Hepatitis C, and others. Expert remediation teams are trained to minimize health risk and ensure safety.
Professional biohazard cleaning technicians do their best to restore every scene to its former state, but they can't guarantee that every item will be able to be saved. Some materials, such as carpet or soft furniture, may need to be completely replaced due to safety concerns.
Due to the potentially hazardous nature of biological materials like blood, tissue, and other body fluids that are left behind after a crime or trauma accident, it is recommended that you do not try to clean up the scene by yourself.
Instead, you should enlist a trained professional who can guarantee safe, complete removal of all dangerous material.
You should call a restoration company whenever you notice a problem. This may sound like common sense, but people often think they can do-it-yourself a minor damage issue and that usually results in a lot of trouble. Unless you are a licensed professional, do the safe thing and call your local certified restoration company.
Yes. No. Maybe. The single most confusing element related to water, fire, and mold damage is what is and is not covered. Find out what you have, or don't have, and learn what you need when it comes to water damage and your insurance.
Homeowners Policies
Water damage is probably the single most common reason that people make claims on their homeowner's policies. Unfortunately, it is only then that they actually discover what is and is not covered. Flooding is not usually covered under insurance, and if water damage can be in any way traced back to negligence on the part of the homeowner, it will not be covered. Sudden and unforeseen problems are usually covered.
You need to take the time and sit down with your insurance provider and determine the extent of your coverage. Making too many insurance claims for situations that are not covered can come back to haunt you when you try to shop for different insurance in the future.
Secure your property to prevent additional damage. Make any temporary repairs necessary, such as putting a tarp over your roof or boarding up your windows. Do not remove any evidence of damage and this may cause you to have your claim denied because you did not follow the correct policy procedures.
NorthStar Restoration Services provides these temporary services as well as full-service water, fire, mold and storm damage restoration. Call us today for help with tarping and board-up services.
Every situation is different. The amount of time it takes to clean fire, water, mold or storm damage depends on the extent of the damage, how many rooms were affected and other factors. NorthStar Restoration Services will clean as quickly and efficiently as possible to complete the job and get your home back to normal.
The cost of increased electrical usage is usually less than people think. It is often a cost that is paid for by your insurance provider if your policy allows for it. Usually, the cost is between $25-75.
Talk to your claims associate about what you should do and should not do before the clean-up team arrives.
Check your policies and speak to your insurance professional to learn exactly how your particular deductibles work.
Depreciation is the amount by which the value your home or personal property has decreased in since you bought it. Depreciation is caused by a combination of factors including:
Age

– how long ago something was purchased

Condition

– the amount of wear and taer or other damage

Obsolescence

– whether newer models have been released
Based on this, recoverable depreciation is the portion of the depreciated amount that you can get back or "recover" from your insurance company when you make a claim on a policy with replacement cost coverage.
Proudly Serving Central Wisconsin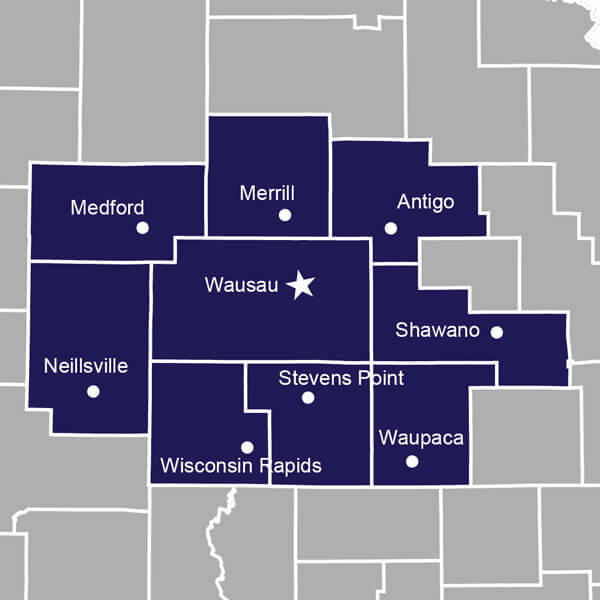 Proudly providing disaster restoration and cleaning services to Clark, Langlade, Lincoln, Marathon, Shawano, Portage, Taylor, Waupaca, Wood and Counties.
Abbotsford
Amherst
Antigo
Athens
Auburndale
Colby
Dorchester
Edgar
Greenwood
Hatley
Iola
Kronenwetter
Loyal
Marathon City
Marshfield
Medford
Merrill
Minocqua
Mosinee
Owen-Withee
Plover
Rib Mountain
Rhinelander
Schofield
Spencer
Stevens Point
Stratford
Thorp
Tomahawk
Waupaca
Wausau
Weston
Wisconsin Rapids
Wittenberg
Woodruff
and every small town in between!