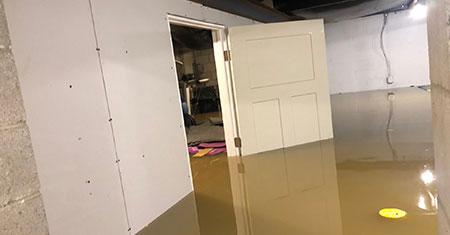 Where is the Water in My Basement Coming From?
Basements are prone to flooding and water damage because they are partially or fully underground, and often contain a lot of pipes, plumbing, and appliances. Basement flooding can happen at any time of the year, even during the dry season, and it's important to always be prepared.
How'd It Get There?
There are numerous ways water can get into the basement. Flooding, by insurance standards, means that water flows across the ground and through an opening in the basement such as a door or window or through seepage in the foundation. It can be caused by improperly sealed basement tiles and foundation, weeping tile failure, and gutters and downspouts that are blocked by debris. Within the basement itself, there are also many sources of water damage, such as pipes, hot water heaters, and sump pumps. Pipes can fail due to damage or poor installation. Hot water heaters can leak or burst. Sump pump failure can happen for multiple reasons, including just too much water for the pump to keep up. Additionally, sewage back ups are common in basements.
What to Do
If there is standing water in the basement, it's a good idea to first turn off power to the area for safety reasons if possible. Then, determine the source of the water, and, if it's plumbing related, shut off the water. If the sump pump failed, try to get it running again. Not all sump pump failures are permanent issues, so it is possible it was just a temporary failure. Once the source of the water is cleaned up or otherwise stemmed, call in a professional for cleanup. Water in the basement is not to be handled alone if possible. That said, even if insurance will not cover the mitigation, many companies will offer advice on the best way to clean up, so it's useful to call, even if professional services will be unaffordable.
Is Basement Flooding Covered by Insurance?
Water in basements can sometimes cause a bit of a grey area as far as insurance coverage due to the varied causes. It's important to call the insurance company immediately to discuss coverage and determine the next steps. Burst or leaking pipes and hot water heater issues are typically covered by standard homeowners' policies. Sump pump failure and drainage backups, including sewage, are commonly covered under the same umbrella but are an added endorsement for most insurance companies. Actual flooding, under insurance industry definition, is very rarely covered and flood endorsements are rarely offered or are offered at extremely high prices.
There are a number of ways for water to get into a basement, both from interior and exterior issues. It's important to know the difference between a "flooded basement" by the general population's standards and an actual flooded basement according to the insurance industry. When water is found in a basement, finding the source and giving the proper information to the insurance company and a professional mitigation company is integral to getting the home put back to its pre-loss condition in the quickest and most efficient way possible.