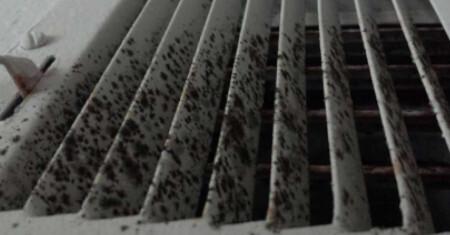 Mold Remediation in Your HVAC System
The weather is warming up, and you've finally turned on the air conditioning. Now, everyone's allergies are acting up and you've had a constant headache. One day, you hear the air conditioner kick on and notice a musty smell coming from the nearby vent. Could that be the problem?
Testing for Mold in HVAC
The process of heating and cooling the home creates near-constant condensation making the HVAC system the ideal place for mold growth, even if it's well maintained. If you suspect that you have mold in your HVAC, call an environmental specialist right away. They will perform an air quality test as well as a surface sample if possible to confirm the presence of mold. It they do confirm that there is mold present in your system, they will refer you to an IICRC certified contractor to begin the remediation process.
HVAC Mold Remediation
Once it's been confirmed that there is mold present in the home, it's important to remediate it as soon as possible. Mold spreads quickly at the best of times, and, coupled with the airflow from the HVAC, its proliferation is very accelerated. The first step before remediation can even begin is to verify and eliminate the source of the mold if possible. Sometimes, there's no way to eliminate the source because it's caused by the regular use of the system, but other times there is an error in the system that's causing excess moisture. Once this has been done, the system should be shut off. Proper containment during remediation is paramount, and the blower kicking on suddenly would, quite literally, blow that containment.
Although there is a lot of advice available for DIY mold removal, the EPA highly recommends hiring an HVAC cleaning professional when dealing with mold in the HVAC system because the mold removal process is very intensive and there are specific procedures that should be followed. Professional mold remediation companies have the proper equipment and training to ensure safe and effective mold removal that will protect the household from the health hazards associated with it as well as help prevent its return.
If you've noticed a musty smell of uptick in allergies, headaches, or other respiratory issues with the increased use of your HVAC system, it's highly likely you have mold. Don't wait to address it. Mold can have serious health repercussions and should be remediated as soon as possible.