Fire and Smoke
Damage Restoration
Professional fire damage restoration services in Wausau
Schedule An Inspection
we work with

all insurance companies
Dedicated Project Manager
Emergency Tarp and Board up Service
Debris Removal and Disposal
Content Pack Out and Inventory Service
Content Cleaning and Deodorization
Climate Controlled Content Storage
Structure Cleaning and Deodorization
Complete Reconstruction and Renovation Solutions
Content Delivery Service
Fire & Smoke Damage DOs and DON'Ts
After a fire, it is natural to want to jump in and clean the building and contents. Timely action can be a great help, but incorrect action can jeopardize or impede satisfactory restoration.
DO
Clean and protect chrome trim on faucets and other bright work by washing with detergent and applying a coating of Vaseline or vegetable oil.
Blow off or brush-vacuum loose smoke particles from upholstery, draperies and carpeting.
Open windows for ventilation if weather permits.
Empty refrigerators and freezers if electricity is off, and prop open doors with a rolled towel or newspaper to allow for air circulation.
Remove pets to a clean environment if heavy fire residues are present.
Change HVAC filter, but leave your system off until a trained professional can check the system.
Tape double layers of cheesecloth over air registers to stop particles of soot from getting in or out of the HVAC system.
Limit movement in home to prevent soot particles from being embedded into upholstery and carpet.
DON'T
Do not touch anything with your bare hands. Oil from your hands can permeate upholstery, walls and woodwork, causing additional damage.
Do not wipe or attempt to wash fire residues from walls, ceilings or other absorbent surfaces.
Do not use carpeting or upholstered furniture impacted by heavy smoke residues or debris.
Do not use food items or canned foods exposed to heat.
Do not turn on computers, TVs, stereos or electrical appliances until they have been cleaned and checked.
Proudly Serving Central Wisconsin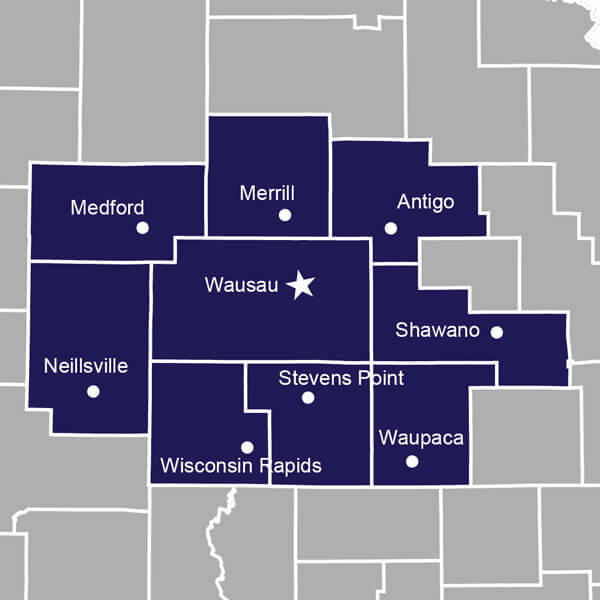 Proudly providing disaster restoration and cleaning services to Clark, Langlade, Lincoln, Marathon, Shawano, Portage, Taylor, Waupaca, Wood and Counties.
Abbotsford
Amherst
Antigo
Athens
Auburndale
Colby
Dorchester
Edgar
Greenwood
Hatley
Iola
Kronenwetter
Loyal
Marathon City
Marshfield
Medford
Merrill
Minocqua
Mosinee
Owen-Withee
Plover
Rib Mountain
Rhinelander
Schofield
Spencer
Stevens Point
Stratford
Thorp
Tomahawk
Waupaca
Wausau
Weston
Wisconsin Rapids
Wittenberg
Woodruff
and every small town in between!