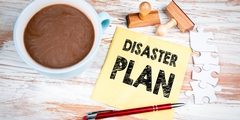 When a disaster strikes, it can be a challenging time for everyone involved. As a restoration company, NorthStar Restoration Services understands the importance of being prepared before a disaster strikes. In this blog post, NorthStar Restoration Services will discuss the significant difference that preparedness can make in the restoration process and provide tips on how to be prepared for emergencies.

Preparedness
According to FEMA, up to 40% of businesses affected by a natural or human-made disaster never reopen their doors. Being prepared can make all the difference in the restoration process, and ultimately, the survival of a business.

Ensured Safety Of Others
In addition to reducing downtime, being prepared can also help ensure the safety of everyone involved. According to OSHA, the restoration industry is one of the most hazardous industries to work in, with many potential hazards, such as contaminated water and structural damage.
"We had a team member who was working on a water damage restoration project when they encountered contaminated water. Thanks to their safety training and PPE, they were able to avoid exposure and complete the project safely." *These stories are fictional and are intended to highlight how being prepared for a disaster is a good thing*

Minimizes Financial Impacts
Preparedness can also help minimize the financial impact of a disaster. According to the National Safety Council, the average cost of a nonfatal injury in the workplace is over $40,000.

Tips for Preparedness:
Create a disaster recovery plan and review it regularly.

Conduct regular safety training for all team members.

Invest in PPE and ensure that everyone knows how to use it correctly.

Identify potential risks and hazards ahead of time and take steps to mitigate them.
Being prepared can make all the difference in the restoration process. At NorthStar Restoration Services, we take preparedness seriously and have a comprehensive disaster recovery plan in place to ensure that we can provide the best possible service to our customers. If you need damage restoration services, contact us today to learn more about how we can help.