Not an Emergency?
Get an Estimate
Northstar Restoration Services is your source for residential and commercial restoration
Is Your Commercial Property Prepared?
We offer Priority Response Emergency Plan (PREP) program for commercial properties. Call us for details!
Emergency Damage Repair Services
IN WAUSAU, WISCONSIN
A team you can trust
The reliable professionals at NorthStar Restoration Services will take care of your damage repair needs. With more than 100 years of combined experience behind us, we're not afraid to handle large or complex projects. Our mission will be to make your home a safe and livable place again.
Our friendly team will strive to decrease the stress of having your property restored. We're organized and thorough, so we're able to supply prompt project completion on budget. In addition, our company offers a Priority Response Emergency Plan (PREP) program.
As a premier provider of damage repair services, NorthStar Restoration Services is committed to customer satisfaction. We're proud to be based in Wausau, WI. If you'd like to learn more about the work we do, contact us today.
Free Helpful Resources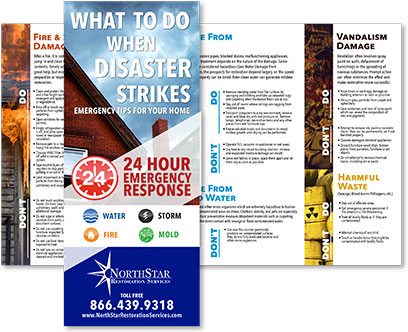 Download our "Disaster Strikes" Brochure to learn the DOs and DON'Ts of reacting to a property disaster.
Download property inventory book. Protect yourself!